EShram Card Online Registration portal 2022 |www.register eshram.gov.in | E
shramik

official website | Download e shram card online at www.register.eshram.gov.in

EShram Card Online Registration 2022 at www.register.eshram.gov.in: The eshram Portal was Launched on August 2021 by Shri Bhupender Yadav, Hon'ble Minister (L&E) in presence of Shri Rameswar Teli, Hon'ble Minister of States (L&E). E Shramik Portal will have details of Worker name, occupation, address, educational qualification, skill types, and family details etc. for the benefits of the social security schemes to them. In this article explains How to register online e shram self registration.

e shram self registration portal has been created for the National Database of Unorganized Workers with the help of Aadhar Card. Any worker who is working in an unorganized sector and the age between 16-59 years, is eligible to register on the eSHRAM portal example migrant workers, gig workers, platform workers, agricultural workers, MGNREGA workers, Fishermen, Milkmen, Silk Weaver, ASHA workers, Anganwadi workers, Street Vendors, Domestic workers, Rickshaw pullers and other workers.
EShram card self registration Portal 2022 (ई श्रम पोर्टल )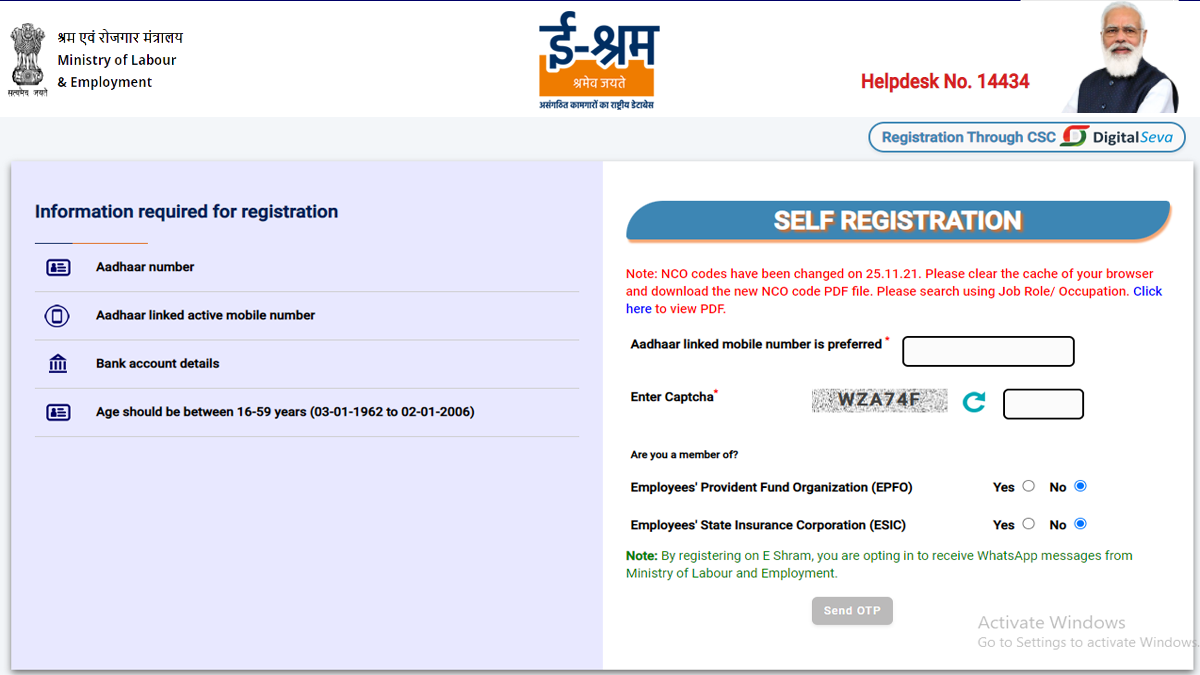 eSHRAM Portal objective
Creation of a centralized database of all unorganized workers (UWs) including Construction Workers, Migrant Workers, Gig and Platform workers, Street Vendors, Domestic Workers, Agriculture Workers, etc., to be seeded with Aadhaar.
To improve the implementation efficiency of the social security services for the unorganized workers.(ii) Integration of Social Security Schemes meant for UWs being administered by MoLE and subsequently those run by other ministries as well.
Sharing of information in respect of registered unorganizedEnter the workers with various stakeholders such as Ministries/ Departments/ Boards/ Agencies/ Organisations of the Central & State Governments through APIs for delivery of various social security and welfare schemes being administered by them.
Portability of the social security and welfare benefits to the migrant and construction workers.
Providing a comprehensive database to Central and State Governments for tackling any National Crises like COVID-19 in the future.
Who can register in eShram (NDUW) Portal?
Any individual satisfying the following conditions can register on the portal:
An unorganized worker (UW).
Age should be between 16-59 years.
Not a member of EPFO/ESIC or NPS (Govt. funded)
Who is Unorganised Worker?
Any worker who is a home-based-worker, self-employed worker or a wage worker in the unorganized sector including a worker in the organized sector who is not a member of ESIC or EPFO or not a Govt. employee is called an Unorganised Worker.
What is required for E shram Self registration Online 2022?
Following is required to register on the portal:
Aadhar Number
The mobile number linked with Aadhaar.
Savings Bank Account Number with IFSC code
register.eshram.gov.in self registration- register here /
e shramik registration CSC Digital Seva portal
Go to the website www.eshram.gov.in
Click the Self Registration Button
Enter the Aadhar Number
Enter the Captcha
Tick the EPFO and ESIC Member (yes/no)
Click the Send OTP Button
Fill all the Particulars
Submit your E shram Application
Print the E shram FOrm for future Reference
E Shram Registration Links
E shram Registration –> https://register.eshram.gov.in/#/user/self
eSHRAM Official website –> https://eshram.gov.in/